Workshops will be hands-on in small groups and introduce different applications of VR in architecture.
Registration: from 8:30 to 9:00 at the Campus Service desk in the foyer of the CREATE building (Rendsburggade 14)
Welcome session: from 9:00 to 9:30 in room 4.517 (4th floor)
Co-Design in HYVE-3D: Representational Ecosystem and Design Conversations
---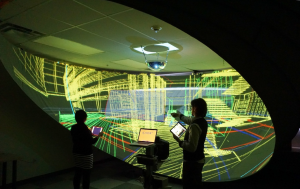 Organisers:
Thomás Dorta, Professor
Davide Pierini, PhD candidate
Hybridlab
University of Montreal
Room: 5.145a (AVAlab; ground floor)
Time: 9:30 – 16:00
Number of participants: 2-12
---
The aim of this workshop is to introduce the participants to the co-design approach using a Social VR system (without headsets): Hyve-3D (Hybrid Virtual Environment 3D) (Dorta, et al. 2016). The system affords simultaneous multiuser co-design (local and remote) using 3D sketches (exported as vectors) and imported 3D textured geometries, photogrammetry models and point-clouds. Participants will be trained to use the suitable representational ecosystem and the verbal protocols specific for co-design as a particular kind of collaborative design where each will be simultaneously ideating ad-hoc projects instead of cooperating (individual design to be put together in a later stage).
Unreal Game Engine for Architectural Lighting Visualization
---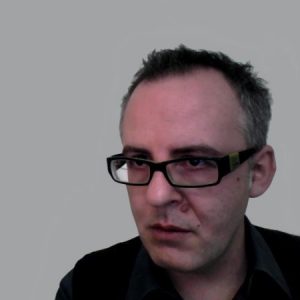 Organiser:
George Palamas
Assistant Professor
Aalborg University

Room: 4.513 (4th floor)
Time: 9:30 – 16:00
Number of participants: 6 – 15
---
The world of visualization is changing rapidly and the lines across non-real time (e.g. 3ds Max) and real time (e.g. Unreal Game Engine), rendering applications are blurring with the former being used often for photorealistic, real time, visualizations.
This workshop is a systematic approach to explaining the different lighting models commonly used for real time rendering and how to use them inside of Unreal Game Engine. The course will be covering the basic principles of the lighting system of Unreal engine providing a practical understanding along with a basic design workflow on how to set up high quality lighting. Using case study scenes, we will create an interactive walkthrough with dynamic lighting, adaptive to user input.
Essential Resources:
– How to install UE4
– Lighting quick start guide
– Unreal Engine Online Learning Academy(advanced)
Requirements:  PC or MAC capable to run UE4
Virtual Reality Room-Acoustics Workflows
---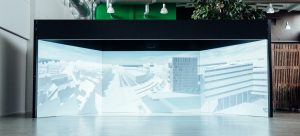 Organisers: Kjeld Svidt, Associate Professor, Aalborg University,
Jesper Bendix Sørensen, CTO and owner, Epiito, and
Dario Parigi, Associate Professor, Aalborg University

Room: transport to New Aalborg Hospital will be provided
Time: 9:30 – 12:00
Number of participants: max. 15
---
In this workshop, you will be introduced to a Virtual Reality system with real-time auralization developed in an ongoing research project. You will learn how to import rooms with surface properties from an IFC model and set up sound sources for the VR model. The VR model can be experienced in a multi-user and multi-platform environment from epiito.dk.
The workshop is organized by researchers from Aalborg University and developers from Epiito. The workshop will take place in the CAVE at the construction site of the New Aalborg Hospital. Transport from the conference venue and back is included in the workshop.
Cancelled: Measuring the health effects of green and blue spaces in urban environments using virtual reality
---
Organiser: Mattias Wallergård, Associate professor, PhD, Lund University
Unfortunately, this workshop had to be cancelled.
---
Dinner at the Table: VR/AR Convergence Applied to the 'Last Supper'
---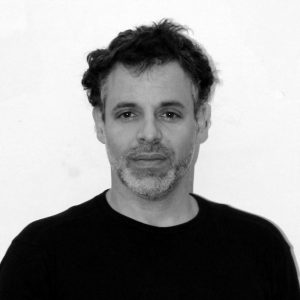 Organisers:
Mauro Costa Couceiro, Phd
Rui Lobo, Phd
António Monteiro, arch.
University of Coimbra, Portugal
Room: foyer (canteen seating) and 4.517 (4th floor)

Time: 13:00 – 16:00
Number of participants: 2 – 12
---
Imagine you are sitting at the table with Christ and the Apostles. In an exercise of VR/AR convergence we will bring the human scale Last Supper terracotta ensemble (by Hodart, 1531-34), which belonged to the refectory of Santa Cruz Monastery, in Coimbra, to the dining room of the CREATE building, venue of the 7th eCAADe regional international symposium.
The goal of the workshop is to develop strategies for the conciliation between reconstructed Virtual Reality and the concrete reality (surveyed through 3D point-cloud and Stereo HD-VR Domes) in order to enhance the notion of continuity between both worlds. Thus, we will ask the participants to elaborate a 3D survey (both point-cloud and Stereo HD-VR dome) of the CREATE building dining-room, with state of the art technology, in order to build-in the Last Supper ensemble and to attempt a solid convergence between Virtual and Augmented Reality.
Integration of Acoustic Simulations into Virtual Reality and its Usage in Architectural Design Practices
---
Organisers:
Finnur Pind, Industrial PhD fellow in acoustics Henning Larsen/DTU
Luís Vieira, Software Developer, Henning Larsen Architects
Room: 4.521 (4th floor)
Time: 13:00 – 16:00
Number of participants: min. 4
---
In this workshop an acoustics VR tool which is under development in Henning Larsen will be presented. The tool uses highly accurate pre-baked acoustic simulations, realized by a wave-based simulation algorithm under development in Henning Larsen/DTU. The tool is implemented as a plug-in into Revit and links 3D visuals created by Enscape and an audio processor implemented in Pure Data.  Participants will be allowed to experience in VR some interesting test cases, including real design cases from Henning Larsen. Following the presentation and demonstration a discussion among the participants will ensue, on how VR acoustics can fit into the architectural design process and what added value it can bring to the table. Technical aspects of VR acoustics will also be discussed, e.g. different approaches for realizing acoustic VR and their respective pros and cons  (different simulation techniques / pre-baked vs real-time simulations / different game engines running the visuals / integration into different CAD software / different usage requirements need / etc).
---
Dinner at 19:30 in Mortens Kro (Mølleå 2-6, 9000 Aalborg)